Features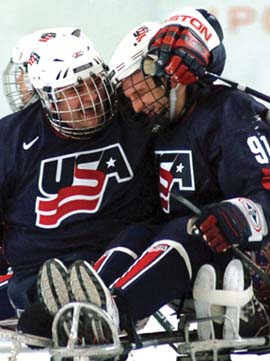 SWEET VICTORY: Taylor Chace '10, below right, celebrates at the 2006 Paralympics. Facing page, top: Tyler Walker '08 at the X Games.
On a late December afternoon, Taylor Chace '10 flies across the rink at UNH's Whittemore Center Arena, carving long arcs in the fresh ice as he whoops and hollers toward the goal. He is sitting down, just inches from the glistening surface, his legs supported in front of him. Beneath the molded plastic seat of his small metal sled, two knife-sharp blades carry his weight, but it's his arms that propel him, pumping hard, digging into the ice with metal picks on the end of the cut-off hockey sticks he grips in each hand. Nearing the net, Chace shifts his weight, and, in a split-second move, flips his left stick and drives the puck hard into the goal. Whizzing straight for the wall, he careens into an ice-scraping turn and doubles back for another shot. Again and again he fires. Some shots go low. Some go high, sailing into the rink wall with an echoing thud. He's in constant motion. This is what he loves. This is what he lives for—ice time.
Chace used to play hockey standing up. As a little kid, he played on his family's backyard pond. When he was big enough, he played youth hockey. Then he was chosen to play select hockey with the Middlesex Islanders, a regional travel team. He practiced all the time, even off the ice. At home, he'd spend hours in the driveway on roller skates, using a tennis ball to take shots at the garage door. He had his eye on a hockey career. When he was 16, he took time off from high school to play with the New Hampshire Junior Monarchs. That's when Chace went to Canada and played in a game that changed his life. It happened fast. He was knocked down hard, slamming into the boards. Falling was nothing new. But this time he couldn't get up. His legs felt like they were encased in cement. They didn't move. At all.
During the long months of rehab that followed his surgery, no one knew if Chace would walk again. But one thing was sure—his hockey dream, the thing he had worked for so single mindedly for so long, had been shattered along with his spine. "It was unbelievably frustrating," says Chace, who watched his buddies move on to big-name hockey schools and successful skating careers. Chace, meanwhile, was learning to put on his socks again. And mastering the art of maneuvering in a wheelchair. He was a fighter, though. He tackled his rehab the same way he went after his hockey game, pushing himself relentlessly. "I was also incredibly lucky," says Chace, whose injury was low on his spinal cord. About a year after the accident, he had discarded his wheelchair and was using a walker. Ecstatic with his progress, he still felt a long way from the life he had once known. "Being an able-bodied athlete for so long and then having to confront this idea that I'm disabled, crippled, weak—it was tough," says Chace. "I didn't want to define myself this way."
Then he discovered Northeast Passage. Founded in 1990, the adaptive recreation program quickly gained a reputation for being incredibly good at getting people with disabilities up mountains, into kayaks, onto bikes, out on the ski slopes—the list goes on. "It's all about creative problem-solving and collaboration," says program founder Jill Gravink '86, who grew up playing with two cousins who had muscular dystrophy. She and her siblings rigged up all kinds of contraptions for their adventures—hauling their cousins through the woods, suspending them from harnesses in trees. "We collected a lot of bruises," says Gravink, laughing. "But my aunt loved that their lives were so normal."
Gravink started her nonprofit with that same can-do philosophy. "Every one of our programs began with people coming to me and saying, 'This is what I want to do. Can you help?'" says Gravink, who moved Northeast Passage into borrowed office space at UNH in 1995. Soon the program was attracting federal funding. It was also expanding to include clinical therapy for disabled students in elementary schools and adults in their homes. In 2000, after years of collaboration, Northeast Passage officially merged with UNH as the service branch of the recreation management and policy department. Today, it's one of biggest adaptive sports programs in the country. The reason, of course, is their philosophy: No matter what you want to try, we're here to help. Now, let's get moving!
The gigantic storage room behind Northeast Passage's office is evidence of that philosophy—and its success. Early on, the program had about 12 pieces of adaptive sports equipment. Now there are more than 250—hand bikes, monoskis, hockey sleds and specialized wheelchairs for tennis, basketball, and rugby. Things are stacked floor to ceiling—the ultimate garage. In one corner, spare wheels, tools and extra parts are scattered on a workbench. If they don't have what someone needs, they create it, sometimes getting help from UNH engineering students. "There's an important mindset involved in looking at a person and seeing their potential," says Gravink, who is passing this mindset along to every UNH student who interns or volunteers with the program. "You can't look at someone and see the disability."
Easy to print version
---
blog comments powered by